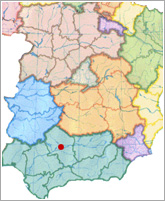 Cordoba is one of the eight provinces which make the Autonomous Community of Andalusia. Its total surface area is 13,723.20 square kilometres (2.7% of the total area of Spain), which makes it the second biggest province in Andalusia and the thirteenth in Spain.

Beyond the northern borders of the province lie Badajoz and Ciudad Real, to the east is Jaen, Granada and Malaga lie to the south and Sevilla and Badajoz to the west.
The exact position of the city of Cordoba is at latitude 37 50' 44" and longitude 04 50' 23", and its average altitude is 123 metres above sea-level. Due to its central position, Cordoba is considered the "Heart of Andalusia".
The River Guadalquivir crosses the province from east to west and splits it into two almost symmetrical areas. The area north of the river includes the mountainous region of the Sierra Morena and a plateau that extends as far as the Guadalquivir. This area is mainly used for the extensive farming of livestock.
The lands to the south of the river include the Campiña (farm land), which extends to the south west towards Seville and whose fertile land is excellent for farming. In the southernmost part of the province lies the area of the Penibetica, where vines and olives are cultivated.