Salmorejo Cordobés

Salmorejo is a cold, creamy paste made from tomato, bread and olive oil, which is served as a starter in all the bars, taverns and restaurants in Cordoba. It is arguably the commonest tapa in the city and is really easy to make. Cut up 300 g. of bread into pieces and mash it together with extra virgin olive oil. Add one clove of garlic, salt and 1 kilo of peeled tomatoes, and put it all in the blender. Finally, sieve the mixture and it is ready to serve with finely-chopped ham and boiled egg sprinkled on top.

This well-known traditional dish inspired the founding, in 2009, of the "Gastronomic Brotherhood of the Cordoban Salmorejo" whose aim is to promote the province and the city of Cordoba, through its cuisine.
Boquerones en Vinagre (Pickled Whitebait)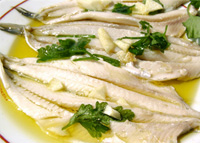 Pickled Whitebait are another one on the list of not-to-be-missed tapas in Cordoba, where eating fish is really popular. They take more than one day to prepare, since the whitebait have to be left in the vinegar overnight to soak up the flavour. Otherwise, it is relatively straightforward. Take 1/2 kilo of whitebait and clean out the guts and the backbone, then wash and drain them three times until the water which drains off is clear. Lay them out for 25 minutes in a shallow dish in water and add a generous pinch of salt. Next, rinse again, drain, and add wine vinegar until all the whitebait are covered. Leave them in the vinegar for 24 hours, then drain them again and arrange them on a different dish adding parsley, finely-chopped raw garlic and sliced onion. A final serving suggestion: drizzle some extra virgin olive oil on top.
Rabo de Toro (Bull's Tail)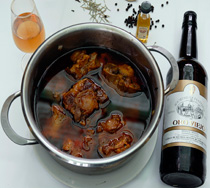 Cordoba has a rich bullfighting tradition and this is definitely one of the dishes Cordoban cuisine is most famous for. Bull's Tail is a main dish, usually served with chips. To make it, first fry two finely chopped onions in olive oil. Then add two cleaned and chopped bull's tails, together with three tomatoes, three green peppers, four carrots and three bulbs of garlic, all chopped. Season with a pinch of paprika, saffron, peppercorns and salt. Allow the mixture to cook for 20 minutes without covering and then add half a litre of white Montilla-Moriles wine, and let it simmer with the lid on until the meat is tender. It is best not to serve the dish straight away, but to leave it to settle for at least two hours before serving.
Flamenquín de Jamón Serrano (Serrano Ham and Pork rolled fritter)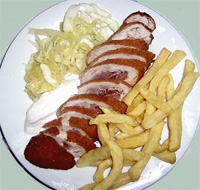 Another characteristic dish in Cordoban cuisine is the Flamenquín de Jamón Serrano (Serrano Ham and Pork rolled fritter). It is really easy to make: take some very thin slices of pork, rolled out to make them as thin as possible, lay slices of (lightly-cured) Serrano ham on top and then roll them up. Each roll is then dipped in flour, beaten egg with salt and breadcrumbs, and fried in plenty of oil. They are then usually served with chips and home-made mayonnaise.

Pastel Cordobés (Cordoban Pastry)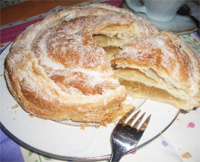 The Arab influence is most notable in cakes and desserts. Traditional cakes such as Alfajores, Pestiños or Pastel Cordobés all originate from ancient andalusí (Arabic-Andalusian) recipes. Pastel Cordobés is the best-known dessert in the city and consists of puff pastry with a filling of citron known as cabello de angel (angel's hair). The top of the pastry is sprinkled with chopped roasted almonds, castor sugar and cinnamon. In some bakeries, they also include small pieces of chopped local Iberian ham in the filling.