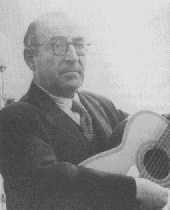 Ramon Medina was neither a professional musician, nor was he born in Cordoba; however, he deserves special mention here for his importance as a writer of a repertoire of songs which are the most frequently performed and best-loved of all the songs written about Cordoba.

Ramón Medina y Ortega was born on 7th June 1891 in Brihuega, a small village in the province of Guadalajara with only 5,000 inhabitants, nestling in the valley of the River Tajuña. His family moved here when he was ten, as his father had taken up a job in Cordoba, a city he would soon call his own. He first came in contact with music through his mother, who played the piano, and at the age of eleven, he joined the Cathedral Boys? Choir, whose director was choirmaster Juan Antonio Gómez Navarro, an inspired composer. His musical education continued in the Provincial Music School and the Philharmonic. However, despite his great love of music, Ramón Medina never became a professional musician. He had a number of different jobs, ranging from running a droguería (a shop selling cleaning products) in the parish of San Agustin to various jobs in the local newspaper Diario de Córdoba, as well as working as a salesman for pharmaceutical products and perfumes.

He was awarded many distinctions and prizes, such as the Medal of Merit of the City of Cordoba, the encomienda (tribute) of Alfonso X ?the Wise? and many popular testimonials. In 1993, almost thirty years after his death, which took place on 1st November 1964, the Cordoba Town Hall awarded him the title of Hijo Adoptivo de la Ciudad (Adopted Son of the City).

His music was inspired, graceful and melodic with the lyrics and music perfectly matched and without excessively rhetorical language ? just some of the ingredients which made his songs so attractive. His lyrics covered a wide range of themes: districts and sites of interest in the city, traditions, romerías (country pilgrimages), Cordoban women and religious feeling...all making up a rich blend with melodies drawing from traditional genres such as Pasodoble, Pasacalle and Seguidilla; they are also full of touches of Flamenco including Bulerías, Peteneras and even the Zorongo, as well as drawing influences from better-known musical forms such as the march and the serenade.

Among the best-known songs he wrote were: Camino del Santuario (The Road to the Sanctuary), Al Cristo de Scala Coeli (To Christ of Scala Coeli), Romancillo del almendro (The Almond-tree Romance), Cordobesita (Little Cordoban Girl), Las Campanas de la Mezquita (The Bells of the Mosque), A la mujer cordobesa (To the Women of Cordoba), Callejita de las Flores (The Alley of the Flowers), Ya van a la cruz de mayo (Off they go to the May Crosses), Noches de mi Ribera (Nights by my Riverside)..... as well as the hugely popular Serenata a la Mezquita (Serenade of the Mosque), which together with Noches de Córdoba (Cordoba Nights) by Cipriano Martínez Rücker, and Fantasía cordobesa (Cordoban Fantasy) by José Timoteo, could be said to be the most popular trilogy of lyric songs about Cordoba.