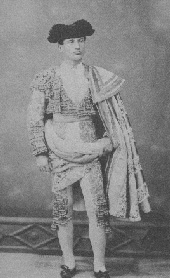 Rafael Molina was born on 27th November 1841, son of the famous banderillero (bullfighter who uses pointed darts), Manuel Molina, whose nickname was "Niño de Dios" (Son of God). Three of his brothers were also connected with the world of bullfighting.
When Rafael Molina started, he was known by audiences as "El Chico" (The Lad) but soon they started calling him "Lagartijo" (The Lizard) because of his skilful footwork.
On 8th December 1852, at the age of only eleven, his name first appeared on the posters as a banderillero in a bullfight organised by the Cordoba Town Hall.

On 24th September 1862, at the age of twenty-four, he first performed as a bullfighter in the Bujalance bullring, as part of a group of aspiring young bullfighters.
There are no records of when or where he took his alternativa (the official ceremony to become a recognised bullfighter): some say it was in Ubeda (Jaén) and others in Madrid. What is certain is that he appeared in two bullfights in 1865 and in both of them he was awarded a bull (a traditional recognition of the best performances).
Lagartijo is considered one of the most complete bullfighters in history. He was a skilful handler of the capote (cape), a nimble-footed banderillero, a strong hand with the muleta (stick) and a quick, sure aim with the sword. He was an instant success in every bullring, and led the journalist Mariano de Cavia to nickname him "The First Caliph of Bullfighting".
In 1893, after a series of five bullfights organised in the main Spanish bullrings of Zaragoza, Bilbao, Barcelona, Valencia and Madrid, Rafael Molina Sánchez "Lagartijo" retired from the ring after an incredible tally of 1,632 bullfights and 4,687 bulls killed, a figure unmatched by any bullfighter before or after.
He retired to Cordoba, his home town and died at home in calle Osario, on 1st August 1900. His funeral was a major social event and a massive show of popular feeling. His mausoleum, gracefully built in white marble, is by the Cordoban sculptor Mateo Inurria.