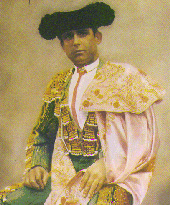 Rafael Guerra was born on 6th March 1862. His father, who worked in the Old Slaughterhouse, was nicknamed El Llavero (The Keyring), and Rafael Guerra used a diminutive of this same nickname when he first began to appear in the bullfighters? team los Niños Cordobeses (The Cordoban Boys). In 1882 he joined the team belonging to Fernando Gómez "El Gallo" (The Cockerel) and from then on he called himself "Guerrita".

He killed his first bullock at the age of sixteen, when he was still called ?Llaverito" (Little Keyring). He took his alternativa in the Madrid bullring on 20th September 1887, under "Lagartijo", who Guerra?s father had helped in his early days as a bullfighter.

Just like his friend and mentor, Lagartijo, Guerrita was a very talented all-rounder and inherited the title of ?Caliph? which Lagartijo been given. In his long professional life, he performed in a total of 892 bullfights and killed 2,577 bulls.

For the year in which he took his alternativa, 1887, he had 14 bullfights contracted in Habana, Cuba. In January, however, he suffered one of his worst injuries when the bull stabbed one of its horns into his neck and put his life in grave danger.

After the last bull in the Fair of el Pilar, on 16th Octuber 1899, he announced his decision to end his professional career as a bullfighter. From then until his death, on 21st February 1941, this master of the bullring led a quiet, routine existence alongside friends and family.


THE GUERRITA CLUB

This club was one of the most popular and prestigious bullfighting associations in the whole of Spain and America. It was founded by a group of friends and admirers, first of all in their usual meeting-place of the San Miguel Tavern, but later moving to Calle Gondomar, where it eventually stayed, in number nineteen, until it was disbanded after his death.