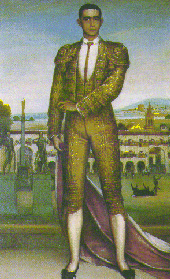 Rafael González was born on 2nd January 1880.

He was a brave and virtuous bullfighter, who took his alternativa (ceremony to become a fully-qualified bullfighter) on 16th September 1900 in Madrid. During his long career in bullfighting he took part in 754 bullfights and killed 1,853 bulls as well as getting wounded 17 times, some of these seriously.

The maestro?s last bullfight was on 16th October 1913, a fight which went down in the annals of bullfighting for being the date Juan Belmonte García took his alternativa under the watchful eye of ?Machaquito?.

Despite his small stature, he killed bulls cleanly, straight from above, often leaving a torn-off piece of his frilled shirt on the bull?s horns, as is immortalised by Mariano Belliure in his sculpture entitled La estocá de la tarde (The evening death-blow).

This brave, honourable bullfighter died at the age of 75, on 1st November 1955. He was buried in the La Salud Cemetery, and on the family pantheon a bronze bas-relief was erected, with a bust of the bullfighter by the sculptor Mariano Benlliure.