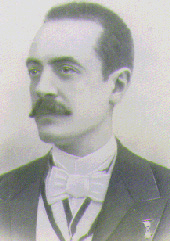 Martinez Rucker was definitely the most important Cordoban composer in modern times and probably the one who has had the biggest influence on the world of music, except perhaps the polyphonic composer Infantas. He was born in 1861, studied music in Madrid, on a grant from the Provincial Government, and continued his studies in France, Italy, Germany and Portugal.
His musical talent, recognised by the composers Tomás Bretón or Enrique Granados, could have taken him far in the world of music, but he preferred to dedicate his life's work to his home town. In this way, all his talent and hard work was enjoyed and appreciated locally, as well as his excellent teaching, not only as Professor of Harmony in the Provincial School of Music, where he was the director, but also as a teacher of piano, an instrument he played extremely well and loved to play, but rarely had the opportunity to do so in public.

He was awarded a great number of prizes and distinctions as recognition of his hard work and his great artistic and intellectual achievements: he was made a member of the Royal Academy of Fine Arts of San Fernando, registered member of the same institution in Cordoba and received honorific titles in musical institutions in Spain, Italy, France and Portugal. He died on 16th July 1924.

The works of Cipriano Martínez Rücker are full of inspiration and imbued with the characteristic elements of Andalusian music, although it should not be considered nationalistic music. His melodies, like those of Lucena, were simple and natural, free from overstatement or artifice, and his harmonies were more elaborate and better constructed than Lucena's, but like his, drew their inspiration from the classical Romantic tradition, a far cry from the new tendencies which were beginning to emerge from modern European music.

His compositions for piano stand out above the rest, and despite being more like drawing room pieces than music for concert halls, they provide a true insight into his creative art. His art was rooted in his own aesthetic interpretation of the late Romanticism of early 20th century Spain and the language he used was full of the picturesque elements so in vogue in that period of extreme nationalistic fervour. Among his best-known pieces were Bocetos líricos (Lyric Sketches), Melodías orientales (Oriental Melodies), Cantos de mi tierra (Songs of my Native Land), Serenata andaluza (Andalusian Serenade), Serenata española (Spanish Serenade) and Seguidilla cordobesa (Cordoban Seguidilla – a type of Flamenco rhythm).

For orchestra he composed two symphonies, some waltzes, the poem Adiós a Boabdil (Farewell to Boabdil – the last Moorish king of Granada), Serenata andaluza (Andalusian Serenade), the very well-known Capricho andaluz (Andalusian Caprice), and a range of works for the choir, including the impressive Noches de Córdoba (Nights of Cordoba). For this last piece, he was awarded the Gold Medal at the musical competition held in Valencia at the Exhibition of 1915, where it was played by the Philharmonic Centre. He also wrote religious music and theatre music – for instance, the light opera Quítese usted la ropa (Take your Clothes off) the operetta El peluquero de la condesa (The Countess' Hairdresser) – and wrote a selection of books about music: La música de Wagner (The Music of Wagner), Algo de música (A Little Music), A través del arte (Through Art) and La herencia de Wagner (Wagner's Heritage). All in all, he left a great amount of immensely creative work which deserves to be rescued from the oblivion and indifference it has recently fallen into.