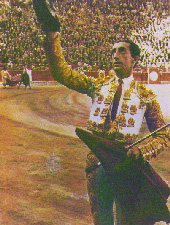 Manuel Rodríguez "Manolete" was born on 4th July 1917, and his father, also called Manuel Rodríguez Sánchez "Manolete", was a well-known bullfighting figure too.

He started his bullfighting career touring with a group of bullfighters known as los Califas (the Caliphs) and performing in Barcelona, Málaga, Arlés and Nimes. He first performed in Cordoba in a night-time bullfight on 12th August 1933, organised by the man who would later become his agent, José Camará.

On 1st May 1935, he performed with mounted picadores in the Tetuán de las Victorias bullring (Madrid). He took his alternativa (ceremony to become a fully-qualified bullfighter) in the Plaza de la Real Maestranza bullring in Seville, on 2nd July 1939, supervised by Manuel Jiménez "Chicuelo" and Rafael Vega "Gitanillo de Triana".

Manolete took his bullfighting seriously and was considered an accomplished artist who dealt with all the different movements of the bulls in his own idiosyncratic way and with an unconventional style. He was stylish, unruffled and brave, and carried out both basic postures and more complex moves with the same panache.

He became a household name both in Spain and America, but especially in Mexico, until that fateful day of 28th August 1947, in Linares, Jaen, when he was killed while moving in to finish off the bull Islero.