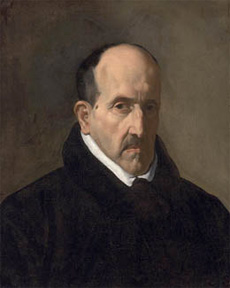 Luis de Góngora was born in Cordoba on 11th July 1561, and his lifetime was marked by the Reformation and Counter-Reformation in Europe and bitter political and religious strife in Spain. He was a contemporary of Shakespeare, Galileo and Cervantes.

After beginning his studies in Cordoba, he was awarded a degree in Theology in Salamanca; he was ordained a deacon in 1586 and travelled around Spain on the orders of the Cathedral Chapter.

He became a priest in 1616, and went to Madrid to take charge of a Royal Chaplaincy. He was considered, together with his arch-enemy Quevedo, one of the best poets of the Spanish Siglo de Oro (Golden Century).

His greatness lies in the sheer range of different works he produced – ranging from sonnets to odes, romances and short poems.

Fed up of life in the court, he retired to his native town, where he spent the last year of his life compiling a collection of his poetry for publication. He died on 23rd May 1627.

His work has survived to this day mainly thanks to the compilation made by Antonio Chacón, Lord of Polvoranca, under the patronage of Conde Duque de Olivares.