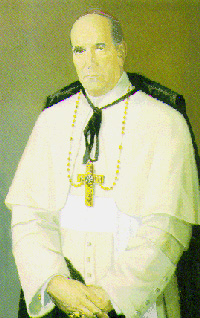 Fray Albino was born in Canga de Onís, Asturias, and had been Bishop of Tenerife before coming to Cordoba as the new bishop, after the death of Bishop Perez Muñoz.

He was a doctor of theology and philosophy, member of the Order of Preachers, as well as a keen mountain climber and gardener. He was a personal friend of General Franco, and was given the job by the metropolitan authorities of reporting back to the Vatican on the state of the Catholic faith in the new Spanish regime.

He promoted the creation of the Beneficent Association of the Holy Family, which funded the building of new housing for the poor in the Cañero district and in the Fray Albino district (which was named after him). He also used the San Alberto Magno Association to establish schools and workshops for professional training; the Nuestra Señora de la Fuensanta Association to provide charity and education for the homeless, and the San Eulogio Association for social building developments.