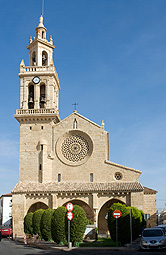 The so-called Fernandine Churches are a group of religious buildings built under the reign of King Fernando III "the Saint" after the conquest of Cordoba in 1236. Many of them were built on top of former mosques, showing a clear intention to wipe out the Islamic influence so visible in the city, as well as to repopulate various areas of the city with Christian subjects.

Fernando III mapped out fourteen parishes, seven in the Axerquia area of the city and seven in the former Medina, whose name was changed "Villa". These buildings are predominantly Romanesque in style but with Gothic and Mudejar influences. The buildings all had the following characteristics in common:

They were built on top of former buildings (local mosques).
The walls were all of stone and the ashlars were placed alternately in lengthways and side-on position.
They consisted of three naves, with vaulted apse and longitudinal ribs.
The internal layout was clearly visible from the outside.
The ceilings were moulded.
They often had side doors.
Many have a rose window visible from the outside.
The bell towers were built on top of the former minaret, the lower part of which date from Medieval times and have survived to this day. The upper parts are usually of a later date.
Nearly all of them were completely remodelled in the Baroque period, and the original Medieval features were substantially altered and in some cases hidden altogether.