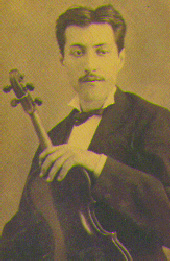 Two names stand out among nineteenth-century Cordoba musicians: Eduardo Lucena y Vallejo and Cipriano Martínez Rücker. The achievements of both of them are still very much present today: the former founded the Philharmonic Centre, and the latter, the Music School. Both left a wide repertoire of compositions which make up the major contributions of Cordoban composers to the Romantic period.

Born in Cordoba on 22nd August 1849, Eduardo Lucena was first taught music by his father, Francisco Lucena Luque, and then attended the Madrid Music School, where he was taught amongst others by the great violinist Jesús de Monasterio and by Hilarión Eslava. He was multi-talented and as well as directing orchestras and bands, performed as a violinist, composed and taught harmony at the Provincial School of Fine Arts of Cordoba, which later became the Music School. He is remembered most in Cordoba as the founder of the Philharmonic Centre, and thanks to this popular association, his compositions are still played today with the same enthusiasm as when they were written. He won many awards while still living, including the title of Knight of the Order of Isabel La Católica (Queen Elizabeth) and honorary member of the Economic Society of Friends of the Country. He died on 2nd March 1893, in a house in calle San Fernando which has a commemorative plaque on its façade, placed there by the Town Hall in 1912.

Lucena's compositions have to be situated in the context of the late 19th century – only then can we appreciate their real importance in Spanish musical production. His range of compositions includes different types of dance, lyric works and the occasional foray into classical genres. According to the magazine La Unión, published on 7th March 1893, the main pieces which made up his full catalogue included: several hymns, one of which was composed to mark the arrival of Alfonso XII on the throne; a series of waltzes entitled "Zaida"; two symphonies for full orchestra; barcaroles, mazurkas, and romances. In other words, most of Lucena's output was in minor genres like the baracole, waltz, pavana or mazurka, as well as works written on request for a particular event, and popular forms such as jotas, habaneras, and pasacalles.

His music has great melodic depth, conventional harmonies and a strongly marked rhythm, all features inherent in popular musical genres. Lucena did not try to innovate; on the contrary, his real ambition was to express feelings through a music which was accessible to everyone, something he did with such talent and inspiration that his universal importance rises well above that of a merely local composer.

His most lasting works include: the ever-popular Pavana, the potpourri called Aires andaluces (Andalusian Airs), the barcarole Cruzando el lago (Crossing the Lake), the famous Habanera, the street parade Carnaval del 86 (Carnival of '86), the jotas entitled A Málaga (To Malaga) and Las mariposas (The Butterflies), and his Symphony in E major.