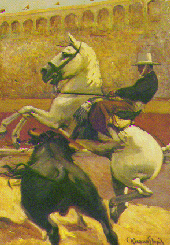 Antonio Cañero was born in Cordoba on 1st January 1885.
Antonio Cañero was an expert horseman, as were many rejoneadores (mounted bullfighters) of his time. He began by appearing in charity festivals in 1913, when he was still an army official.

In 1922 he turned professional and that year took part in 22 bullfights. In the year 1924 he took part in as many as 60 bullfights, which is an amazing achievement when we consider he missed 13 because of serious injuries inflicted by bulls in Murcia and Badajoz.

His presentation in Paris in 1925 was a great success, and he appeared in Portugal in 1926 - but that year he only took part in 14 bullfights after being injured in Bilbao. From 1927 onwards, he performed in Mexico, Venezuela and Peru, and his last full season was in 1936.

When the Spanish Civil War broke out, he rejoined the army as a lieutenant colonel and played an active role in the war on the Nationalist side. He died in on 21st February 1952, at the age of 67.