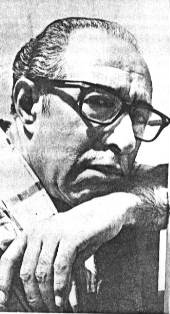 Angel Lopez Obrero was born in Cordoba in 1910, and first studied art at the Cordoba Arts and Crafts School, later studying at the San Fernando Higher School of Fine Arts in Madrid and the workshop of Vázquez Díaz, for whom he felt great admiration.

In Madrid he went on to become one of the pioneers of avant-garde tendencies in art in the 1930s, joining the "Salones Independientes" (Independent Galleries) movement, a revolutionary group which made a public demonstration with their first collective exhibition at the end of 1929.

Between 1930 and 1931 he had his own exhibitions and displayed a series of pictures and sketches in a number of rooms on the topic "Popular Scenes in Andalusia".

He moved to Barcelona, where he worked as an artist for advertising and illustrator, painted portraits and took part in different exhibitions. During the Civil War, he went through difficult times fighting on the front and later in French concentration camps.

After returning to Spain, he settled in Barcelona again, and became heavily involved in the new avant-garde movement as co-founder and main promoter of the "Salones de Octubre" (October Galleries). He also set up in Barcelona the Plastic Arts School and the Workshop School, both aimed at training up-and-coming artists.

In 1952, he took part in the "Salón de las Once" (Gallery of the Eleven) in Madrid, and that very year he decided to move back to Cordoba again, where he became one of the main artistic driving forces in the city.

He continued organising exhibitions in different Spanish cities and taught at the School of Applied Arts and Artistic Crafts of Cordoba.

Of his more recent work, imbued with social realism, the most notable are his paintings of urban features which are disappearing in the city.