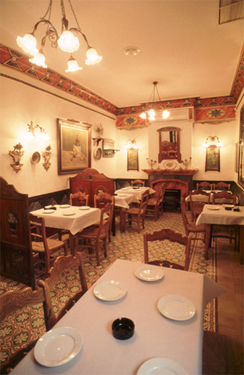 The Salinas tavern in calle Tundidores of Cordoba was founded in 1924 by Francisco de Paula Salinas. Ramírez de Arellano says it was established over an old tavern meaning its tradition in this business goes back a least a hundred years.Back then it was supplied with its own wine cellar which is still conserved today.

It features a street-side tavern with eleven wine bota bags and a glass enclosed columned courtyard with marble pedestal tables. The courtyard is surrounded by rooms, small halls for more intimate gatherings.

It has a long history and an extensive list of distinguished visitors: Pío Baroja, Ortega y Gasset, Camilo José Cela, Pepe Cobos, Ricardo Molina,…

The inside has a real Cordovan tavern feel to it. It still has the 19th century sideboard and dive as well as a set of paintings, relics and antiques that give it with a cosy and traditional atmosphere.

Since 1879, this traditional Cordoba establishment with deep local roots has been combining the colour of a good setting with magnificent culinary specialties such as Serrano suckling pig, fried eggplant, salmorejo, pig's trotters, spinach and chickpeas, onion black pudding, local minced meat and much more. Their "picás" oranges with oil and codfish and Tundidores ratatouille are luxuries on the palate. They have an extensive wine list and large menu of typical desserts.