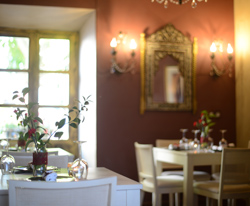 The origins of Caravasar de Qurtuba were inspired by the tradition and meeting point between religions and cultures that gave rise to the Arab-Andalusian heritage. What better place to savour our stunning cuisine with oriental influences than in the heart of the Jewish quarter of Cordoba.

The menu has been specially prepared by expert chefs trained in Arab culture and tradition, and contains some Arab-Andalusian dishes and others which strictly follow the Halal tradition, which are cooked in close keeping with Islamic customs and traditions. The catchword for our hospitality is "Muslim friendly".

In the East, the caravanserai ("carasavar" in Spanish) were hostels or shelters for travellers and their animals strategically placed along the trade routes between Europe and Asia, where merchants could rest, stock up on food and water and barter for goods.

Caravasar de Qurtuba features well-known classic dishes like Chicken and Fish Bastela or meat kebabs and couscous. The décor and atmosphere of these travellers' hostels have been faithfully recreated, from the restaurant and tearoom to the spectacular roof terrace.