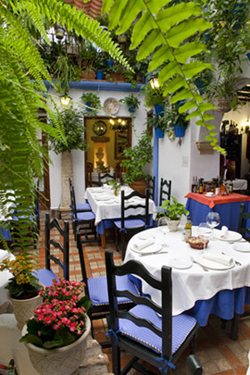 Situated in one of the most traditional neighbourhoods in Cordoba, the San Basilio or Alcazar Viejo district which is famous for its Cordovan Courtyard competition held in the month of May, and in an unbeatable setting just a few minutes from the Cathedral-Mosque and the Alcázar of the Christian Monarchs.

Puerta Sevilla restaurant is located in a house that is more than 200 years old which has been fully reformed and is distributed among two floors with several private rooms and a central courtyard brimming with flowers and plants.

At Puerta Sevilla, you can sample the traditional cuisine like always with high quality products and innovative touches that adapt to the new times and new gastronomic trends. This house was founded in 1999 with the effort and excitement of an entire gastronomy-dedicated family. The Puerta Sevilla tavern restaurant is the company's flagship. It has created its own place in the sector in just 10 years thanks to a combination of factors such as their experience, professionalism, quality and good service.

The recommended dishes at this house are the Foie Gras and goat cheese in a puff pastry served with caramelised apples and cream of celery, Saffron Turbot with beans and octopus, Grilled Duck Foie Gras with soufflé in a pastry and caramelised onion, Duck comfit with wild fruit juices and smoked parmentier potatoes. The star dessert: Texturas de Pedro Ximénez, which received the 1st P.X. Pairing Gastronomic Prize.

This menu is accompanied by an extensive list of wines from the best regions in Spain with a special emphasis on the fabulous D.O. Montilla-Moriles wines since Puerta Sevilla is on the Montilla-Moriles Wine Route, a certified wine tourism route that aims to promote the local wines.