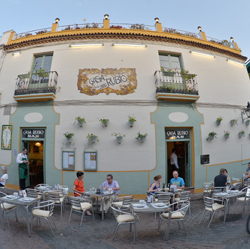 Set within the Puerta de Almodóvar, Casa Rubio Tavern it is located in the house where Cordoba historian Antonio Jaén Morente was born. The tavern dates back to 1920 when it was known as "Taberna de El Cojo de San Nicolás". In 1932, José María Jiménez Márquez, known as "El Rubio" bought the tavern and since then it has had the name it is known by today. The first reforms were completed in 1962 by Francisco Jiménez Carretero, the son of "El Rubio", who converted the former house into the two-story building that now exists.

The tavern was rebuilt and modernised in 2001 by Miguel Cabezas Morón who gave it the current note. The lower floor features a street-side terrace with a view of the Puerta de Almodóvar. On the inside, the bar leads to the tavern hall surrounding the courtyard. The first floor houses the restaurant and finally, the top floor balcony offers open-air dining.

The restaurant menu features Sephardic and newly-created dishes which recreates the traditional gastronomy. A few examples are the molasses-glazed eggplant and the oxtail omelette. Topping it all off are the homemade desserts like the two chocolate cake with biscuit ice-cream.

This tavern was once home to the peculiar Los Almanzores folk club which had quite the name within the Puerta de Almodóvar and in the Jewish quarter. The members were all from the neighbourhood by birth. The crosses they lifted during Cordoba's May festival were very famous.