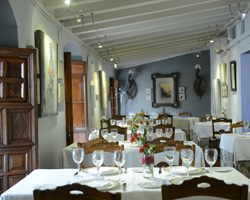 The Casa Pepe de la Judería tavern is quite an institution in Cordoba. This house in calle Romero offers a street-side tavern and a res-taurant. It has a courtyard, several rooms and halls as well as a cosy terrace. It was purchased by Pepe Giménex Aroca in 1928 although it was already a tavern prior to this date under another name. A small dive connects the tavern to the main hallway in the house. The friendly tavern is the perfect place for good conversation over wine and tapas.

The restaurant conserves the mythical heritage of the rooms where you can try the unique flavour of ancestral dishes. The terrace overlooking the Mosque provides for magical nights in Cordoba's Jewish quarter.

This tavern had the honour of welcoming a certain tourist who was then the Nuncio to His Holiness in Paris, Angelo Roncalli, later crowned Pope under the name John XXIII in 1958.

In 2001, the tavern was rebuilt and modernised by Miguel Cabezas Morón who gave it the current note and whose work went well beyond that of restorer, complementing it with various
cultural initiatives.

The inspiration and influence of the three cultures stands out in many of the dishes at this restaurant. Emblematic dishes of Cordovan gastronomy like salmorejo and mazamorra are found on the menu alongside other dishes of Arab or Sephardic origin.

You can also find modern, newly-created dishes on the menu like Zuheros cheese salad or molasses-glazed eggplant. Along with local fino wines, you can sample the traditional ox tail, molasses-glazed eggplant, lettuce hearts, venison and much more.