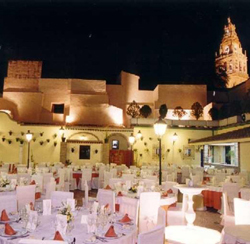 Casa Palacio Bandolero restaurant is situated right in the heart of Cordoba across from Cordoba's Cathedral-Mosque in an area that has been declared a World Heritage Site. Its nineteenth-century name corresponds to the era of Andalusian romanticism and is the result of the restoration and maintenance of a specially protected architectural ensemble of great Cordovan history. The house conserves both the Roman structure as well as the various architectural elements of its successive transformations.

It allows for the sampling of its carefully-designed menu as well as the organisation of events in its seven private rooms and two magnificent Cordovan courtyards. The restaurant's indoor capacity is 550 diners and the two patios can hold up to 350 more. It features a vestry where you can enjoy a glass of fino sherry poured right from the Montilla-Moriles fino wine barrels as well as a spacious tavern where you can try some of the best Cordovan dishes.

The Casa Palacio Bandolero kitchen is staffed by excellent cooks who are well-versed in the ancestral Cordovan cuisine comprised of the essences of Andalusian culinary art. Pedroches Valley red meats, virgin olive oil and wines from the campiña farmlands and the Guadalquivir Valley, Arab tradition found in the bittersweet blends, the use of vegetables to create a countless number of dishes or desserts based on Andalusi tradition are some of the identity marks of its cuisine.

All of the dishes on the menu are based on traditional Cordovan cuisine which combines the culinary heritage of Romans, Arabs, Jews and Christians; traditional recipes without forgetting the art of innovation.

Some of their most select dishes include white gazpacho with green grapes, Reineta apples and raisins as well as its Cordovan salmorejo served with quail eggs and diced Iberian ham. Their codfish and orange salad served with Hojiblanca virgin olive oil drenched red peppers, artichokes in Moriles wine sauce and creamed eggplant with seafood are also menu highlights.