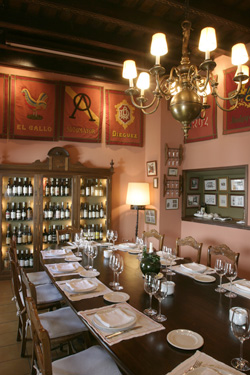 Bodegas Campos began operations in the world of wine in 1908 under the direction of its founder Domingo Campos del Santo. It is located near the Julio Romero de Torres Museum in Axerquía, the old Arab district where according to tradition Christian knights rode in at night to take over Cordoba. The site is comprised of an interesting combination of old houses and typical Cordovan courtyards from various eras. The highlights on the inside are the lines of oak bota bags signed by distinguished visitors Restaurante Bodegas Campos and a collection of bullfighting posters that decorate the walls.

Today, the warehouses and courtyards from the early wine cellar create the ideal place to organise any type of event, celebration, banquet or even an intimate lunch at the restaurant, tavern or in the private dining rooms.

The Restaurant The restaurant menu is inspired by the same philosophy as the rest of this house: to recover tradition with a respectful touch of innovation. The restaurant has a capacity for more than 700 people among the different antechambers, dining rooms and private reservation areas.

The heart of the wine cellar, a series of rooms and popular courtyards, is used for celebrations. Plus, Bodegas Campos offers a state-of-the-art area for business meetings, congresses, events and incentive trips. It's a place where tradition meets professional service. The rooms are equipped with everything needed for a successful event: audiovisual resources, a projection screen, an overhead projector / beamer, air conditioning and heating, handicap access, free supervised parking and many more services.

The identity mark of their menu is constant innovation and the study and use of new textures, flavours and experiences. Highlights include their season vegetables, traditional stews, deboned oxtail with creamy potatoes…

Their desserts represent reinvented tradition - dishes as always with a new spin: wine poached pears with cinnamon ice-cream and orange ice-cream with Arbequina olive oil.